Updated: The campaigned has ended.
We are pleased to inform you that:
CactusThemes has completed successfully 5 years in business.
All of us at the CactusThemes want to thank you for your loyalty and support during 5 years in business.
Because of customers like you, we have had an avenue to provide our quality service and to prove our mandate of excellence. We could not have made it in 5 years without our loyal clients, and we hope to serve you even better during the next 5.
On this auspicious occasion, we gladly announce a 30% discount on this featured product to our clients and customers.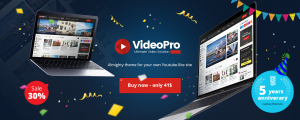 $59  →  $41 Only
---
VideoPro is a Premium Video WordPress Theme
VideoPro – an outstanding theme of CactusThemes is the most powerful WordPress theme for video-based websites.
It is built upon our True Mag theme – one of the biggest video themes on market and trusted by more than 5000 site owners to host hundred thousands of videos.
VideoPro has more unique features which helps you to build any kind of video websites. Whether it is about game, movie, news, entertainment, science… VideoPro can do it!
---
VideoPro has many unique features which help you to build any kind of video websites.
Tons of features of VideoPro are waiting for you to explore.
VideoPro 2.0 – The most powerful update with membership features
VideoPro 2.0 – a powerful video wordpress theme includes all the features you have been waiting for to build a community and sell your premium content. No other themes have done this before and we are as excited as you are.
Build your own video community: Members can create their own channels and playlists from Front-End Subscribe Authors and Channels.
WPMU Membership 2 Integration: Sell memberships and premium content with this feature.
BuddyPress Intergration: Follow members' activities through notifications.

Other quality features:
2 Header Layouts and 2 Color Schemas, Child Theme for Poster Size, 5 Widget Styles, 3 Page Layouts, 3 Blog Layouts, 2 Video Layouts, Ajax Search, Affiliate Features and so much more features.