Free WordPress plugins for video theme to consider
Video theme is powerful and it's an important element in your online marketing. On the internet, if a photo talks a thousand words, then a video tells a million more.
In fact, videos can help drive sales, go viral and increase the time a visitor spends on your website! Videos can be used to show your work process, or explain something a little more complex or simply post entertainment news. Moreover, you can use videos to explain how to use a product, present an online course, or create a vlog about yourself!
WordPress has luckily many great video plugins to extend your video WordPress theme functionality. In this article i have compiled a list of 7 Free WordPress plugins for video theme.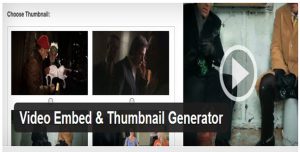 Video Embed and Thumbnail Generator is a plugin to make embedding videos, generating thumbnails and encoding files easier.
Several fields are added to any video uploaded to the WordPress Media Library with this plugin. After choosing some options, then you'll get a shortcode that will embed a flexible Flash & HTML5 video player with a preview image into your post.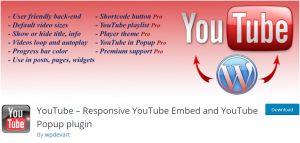 WordPress YouTube Embed plugin is convenient and useful plugin to add videos to your WordPress website without coding knowledge.
You can easily add videos in widgets, posts, pages. It means that you can add videos almost everywhere(also you can use this plugin shortcode to add videos in header or footer of your website).
WordPress YouTube insert module have some helpful components that you'll need.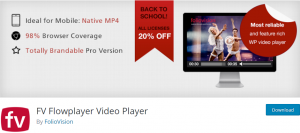 FV Flowplayer Video Player is simple to utilize and finish answer for inserting different type of recordings into your blog or site pages. It is a complete solution for embedding FLV or MP4 videos into your posts or pages. With MP4 videos, FV Flowplayer Video Player  offers 98% coverage even on mobile devices.
Cool Video Gallery is a Video Gallery plugin for WordPress that is used to upload videos, attach media files, add Youtube videos and manage them in multiple galleries. Preview image generation automatically for videos uploaded using FFMPEG library is now available .
Cool Video Gallery also provide option to upload images for video previews. It supports '.mp3', '.mp4', '.mov', '.m4v' and '.flv' video files.

Workbox Video from Vimeo & YouTube Plugin allows to create a video gallery on any wordpress-generated page.
By pasting the video URL, you can add videos from Youtube, Vimeo and Wistia.
Moreover, it allows to control sort order of videos on the gallery page and video galleries can be called on a page by using shortcodes now.
Workbox Video from Vimeo & YouTube Plugin is for advanced users. If you run into problems, please send us detailed notes about the errors and your set up, then we'll do our best to get back to you.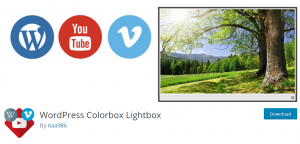 WP Colorbox plugin is a free-simple lightbox plugin for WordPress. It allows to pop up content in lightbox using the popular jQuery ColorBox library. Users can also view the larger version of a particular media file without leaving the page.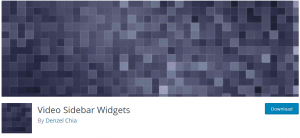 Sidebar Video Widget is a collection of sidebar widgets for displaying Flash Videos from 14 video sharing networks.
These video networks includes Youtube, BlipTV, Vimeo, Google, etc. Sidebar Video Widget consist of 2 widgets and 1 TinyMCE editor button.