All of you want to design your site with ease and as fast as possible. That is the reason why, the drag and drop plugins are introduced. The advantage of those plugins is they do not require expertise to perform. Even a novice can create complex layouts and build a website with a professional look in seconds using drag and drop page builders.
Drag and drop plugins have become so popular that a significant number of WordPress themes on ThemeForest, especially video theme WordPress ThemeForest, are integrated with them.
In this article we will take a look at three of the popular drag and drop plugins that usually come packed with ThemeForest professional video WordPress theme.
3 drag-drop page builders often integrated with video theme WordPress ThemeForest
1. Aqua Page Builder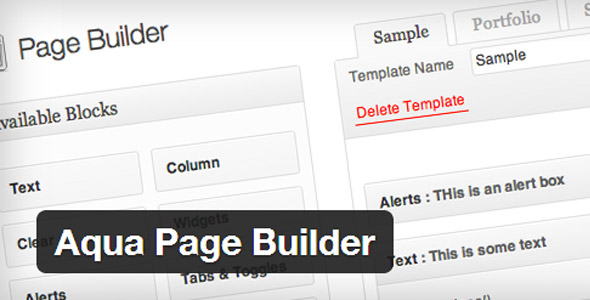 This is a free plugin which allows you to create custom page layouts.
You can see the plugin's interface in the "Appearance" section of your WordPress Dashboard. It works in the same way as the interface of WordPress widget. So, you will feel comfortable when using it.
Aqua Page Builder provides you with six blocks: Text, Column, Widgets, Clear, Alerts and Tabs & Toggles. Also, you are able to add custom blocks if you want. In fact, several theme authors on ThemeForest have done this to enhance their own video theme WordPress ThemeForest (for example: Curvette).
This drag and drop builder is very easy to use; nevertheless, it is limited in features compared to some other plugins such as Visual Composer.
2. Visual Composer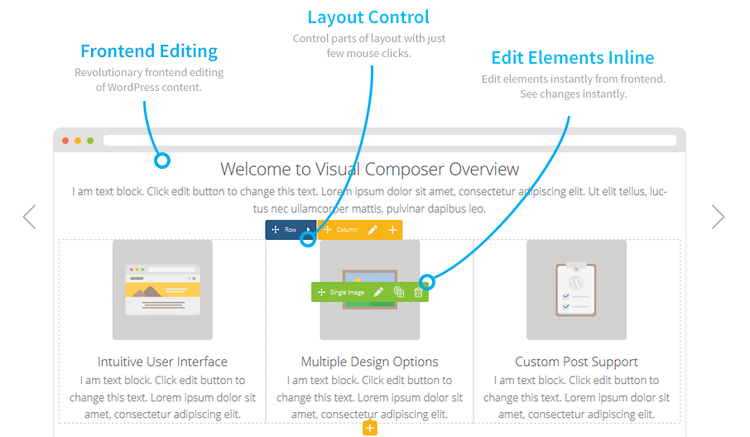 This plugin has about 40 items of content to choose from, including social media sharing buttons, post racks, tables, sliders, image and more. Another plus is that all elements are optimized for mobile devices. Because of its amazing features and advantages, more and more developers include Visual Composer into their video theme WordPress ThemeForest.
What will fascinate you about Visual Composer is that it is easy to create designs quickly. There are several custom designs available for creating content that can be divided in several columns and rows, and can be added by dragging then dropping them in the areas of the page that interests us.
The designs can be saved as templates to reuse in other areas of the website. This makes it easier to create unique styles and duplicate similar pages. For example, you can create a unique design for reviews and another for news.
Another advantage of Visual Composer is the visual query builder. This is an easy way to create custom queries and display them on a grid.
3. Awesome Builder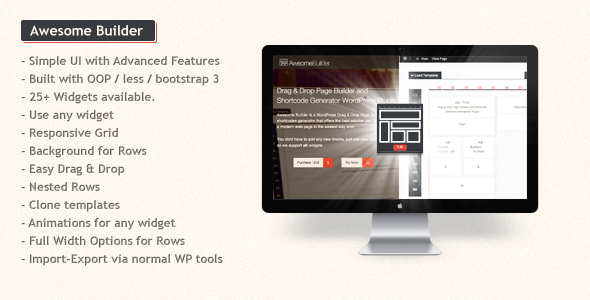 Awesome Builder is also one of the drag-and-drop page builders that many developers use for their video theme WordPress ThemeForest.
The plugin enables the creation of pages with a visual editor or using short codes. There are more than 25 items to choose from including price table, boxes, videos, sliders and more.
Awesome Builder is somehow similar to Visual Composer; however, its interface is a little tidier and cleaner. One of the most outstanding features of this page builder is the ability to switch between the layout for desktop computer and mobile device. This allows optimizing the user experience for each time of visit.
Final Thoughts
The wants and needs of each person are different. A plugin that has dozens of items is not the best option if you do not need these extra features. You should get the right balance for your website.
Most plugin authors allow you to test their page builder before you purchase. This can be available through a free trial or a public demonstration. If none is available, you had better contact the author directly and request access to the plugin demo.
What you think about "Drag-drop plugins often packed with video theme WordPress ThemeForest"? Leave your comments!