ThemeForest is considered one of the major online marketplaces for website templates, where you can find the best WordPress video themes, responsive templates and more. The question is: what makes those themes popular?
This article will summarize some common features of popular WordPress responsive video themes on ThemeForest. Let's have a look at them and you will understand the reason why those ones become the best-selling video WordPress themes.
Key features of the best WordPress responsive video themes on ThemeForest

Modern and beautiful design
Design is the first thing attracting viewers' eyes. Also, the best WordPress themes on ThemeForest, including responsive video themes, have an impressive design that get the attention of customers at first sight. They are beautiful from font, color to layouts and images.
Each video theme will give a distinct look and feel to your site, helping your school or training center stand out of the rest.
Clean code
A significant part of WordPress users have the demand for customize themes' code. They sometimes want to add some CSS or modify PHP codes. Therefore, unless a WordPress theme's code is clean and well-organized, users may feel difficult to customize it. As a result, they will exclude it from their list.
Fortunately, ThemeForest has its own requirements for WordPress core API, features and assets. Therefore, its themes, especially popular ones, usually have well-organized code.
Powerful video features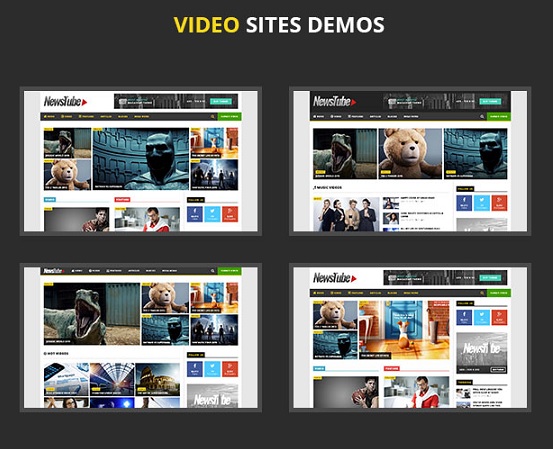 Being the best WordPress responsive video themes, they certainly support powerful features for different types of video content. Some of the key features include:
Embed videos from popular video sharing sites (YouTube, Dailymotion, Vimeo, etc.)
Self-hosted video support
Video playlist & video channel
Built-in widgets for video
Video sliders
Short-codes for video
Custom video players support
Video auto-play
Video page layouts
Besides, each popular WordPress responsive video theme on ThemeForest has its own unique video features, which differentiates it from other themes, such as video ads support and video submission.
Easy Customization
One of the attractive features of ThemeForest WordPress themes, especially video ones, is that they offer the easy-to-use Theme Options Panel and drag-drop page builder. This allows you to take full control and easily customize various aspects of your theme – even if you are not tech-savvy. For example, you are able to change page layouts, logo, favicon, fonts, colors and much more without coding knowledge.
Sustainable Item Support
Envato always try to improve all aspects of how buyers get post-sale support on ThemeForest. In particular, they provide better tools and feedback for authors, and a simpler, more convenient process for buyers.
Wrapping it up
This writing explains the features that best-selling WordPress responsive video themes on ThemeForest usually offer, including: impressive design, clean code, powerful video features, easy customization and sustainable technical support.
So, here are six eye-catching ThemeForest WordPress video themes (responsive) which you may want to consider for your video content:
Invictus – Full-screen Photography WordPress Theme
Studiofolio – Versatile Video Blog Theme
Soundboard – Responsive WordPress Music Video Theme
True Mag – WordPress Theme for Video and Magazine
Right Now – Full-width WordPress Video Theme
Clubber – Events, Music & Video WordPress Theme