If you are reading this post, that means you are convinced that WordPress is an effective solution to manage your site. You are totally right. The reasons of using WordPress are: easy to use, responsive design, SEO Plugin Compatibility, etc.
This article will provide you a selection of the world's best WordPress video blog themes. Whether you want to be the future YouTube partner or a Vlog creator, you will inevitably find your happiness in our selection of five video blog themes for WordPress.
01 – Mixed, WordPress video blog theme
Let's begin our selection with Mixed, a theme designed for anyone who loves sharing videos. With Mixed, you can share videos with everyone from the largest streaming platforms like YouTube and Vimeo.
This responsive theme comes with retina ready graphics and wide range of features such as one-page layouts, mega menus and video background.
With a flexible design, Mixed will appeal especially to video bloggers.
02 – GoodWind, WordPress theme for videos and photos
GoodWind is primarily aimed at photographers. A full-screen slider allows you to add your favorite photos and videos, and track your movie collection. You will also find many interesting features, including album shift listing, AJAX albums, masonry rolls, ribbon gallery and much more.
Your users will also have the opportunity to view images in details, display large version and navigate through the set of images. Moreover, it is designed with vertical and horizontal sliding direction, powerful page builder, password protected gallery and many other features.
03 – NillPlay, WordPress video blog theme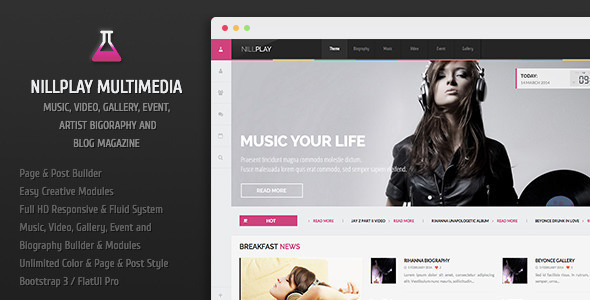 Following is such a superb responsive theme: NillPlay. NillPlay is designed to satisfy your desire of sharing your videos. Indeed, this WordPress theme is developed to highlight music, events, and photos. The blog part is not forgotten with a dedicated section, allowing you optimize your WordPress site for SEO.
Whether by color or by the presence of a usable page builder, this WordPress theme is remarkably distinguished from a lot of video blog themes for WordPress. Based on BootStrap, your users will enjoy surfing on your site with pleasure.
04 – ViPress, WordPress video blog theme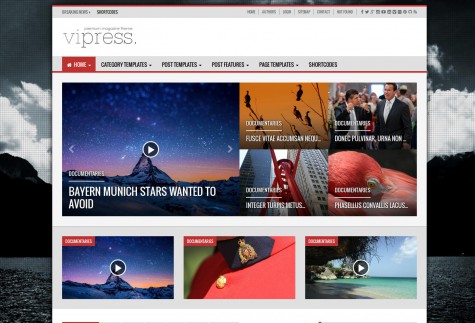 ViPress allows you to share your videos, of course, but above all allow you to create a customizable website to infinity. They have no less than four different sliders, 12 widgets, a fully modular home page, 6 different templates for your tickets, 8 templates for your pages, a theme in white or black, over 600 fonts characters and more than 50 short code. With all this, no doubt, you will have enough to customize your future video WordPress site.
05 – Slimvideo, WordPress video blog theme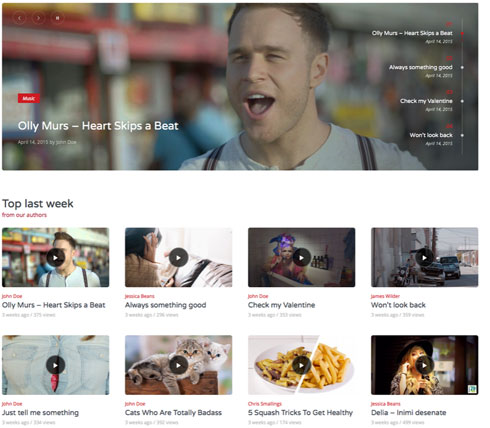 Do you need a WordPress theme that allows you to broadcast your own videos? If yes, the Slimvideo will interest you.
Slimvideo allows you to create a video sharing website by using its four single video layouts, custom widgets, more than 55 builder elements and so on.
For e-commerce, this theme supports WooCommerce plugin which is to create online shop and sell your video products.
Last but not least, this theme is compatible with WPML to make it accessible to the world.