Buying a premium responsive video theme for WordPress is usually safer than using a free one. However, that does not mean you cannot still go wrong. To end up with the right premium responsive video sharing theme and not just an expensive mistake, you should follow the guidelines below.
Guidelines for Picking a Premium Responsive Video Theme for WordPress
Select a video theme whose price stay balance with your actual income. In other words, you should estimate the revenue can be generated through your purchased theme. This is a note for both businesses and freelancers: get the responsive video theme you need and make sure you are generating enough revenue to justify it.
Only purchase the responsive video sharing theme of the most reputable WordPress authors or marketplaces. There are a lot of theme authors out there who do not care about their products' quality; instead, they just care about sales. Avoid falling for persuasive copy or ads. You should read the purchasers' reviews and comments, and choose an author/marketplace with a great track record for excellence. Also, you need to check for their business vital signs to ensure that they are active.
Check out the theme author' support system to ensure that it meets your needs. Every premium responsive video theme comes with the author's support. However, not all support teams are good enough to satisfy your demands. You should find the one with a good reputation for customer satisfaction. There is nothing worse than waiting around while your support ticket is unnoticed for days.
Choose a responsive video sharing theme that matches your content. In particular, you need to determine which post formats you want to publish on your website, how many columns your site layout will have, whether you need an image slider or not, and many more.
Finally, select a responsive video theme with portability in mind. This is very important. Do not let yourself get trapped by features which cannot be ported to other themes. If you are forced to switch to another theme, then you will encounter a big problem.
Quality Premium Theme Examples
Here are two of popular responsive WordPress video themes in 2015. Just experience their demos and pick the right one or get ideas for your video websites.
True Mag – Responsive WordPress Video Blog Theme
True Mag is a modern and clean WordPress theme for video blog, video portfolio and magazine. This responsive video theme is built with the best practices of UI, UX and SEO. It also comes with great features for videos: Built-in Video Ads plugin, Video Short-codes, Video Auto Play, Front-end Video Submission and Self-hosted Video Support.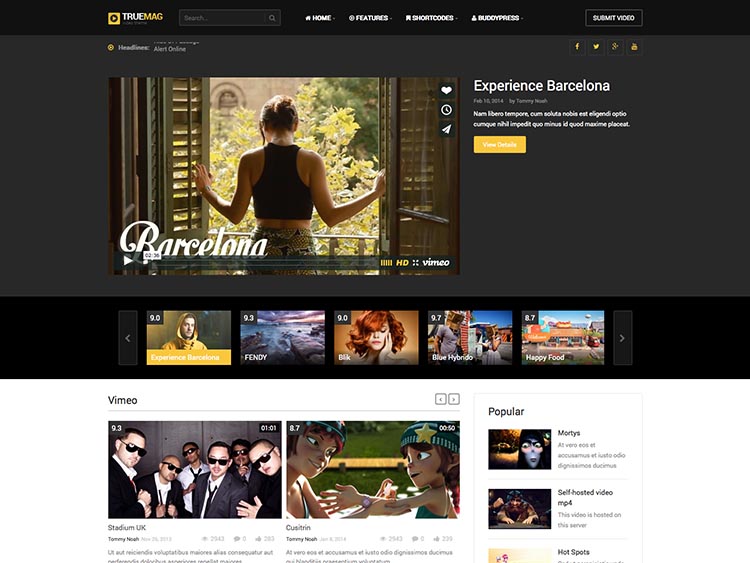 NewsTube – Responsive Magazine Blog & Video Theme
This is a clean and fully responsive theme for blogs, online magazines and video websites. It comes with flexible layouts and extensive Theme Options panel. The responsive video theme also supports videos from popular video sharing sites such as YouTube and Vimeo. NewsTube allows you to create great video playlists and channels, as well as your users to submit videos from front-end.