Today we take a deep look at Twenty Fourteen, this week's best WordPress theme for video & magazine on WordPress.org Theme Directory.
Twenty Fourteen is the default theme for WordPress released in 2014. It is knows as a magazine theme which allows users to display their content in a magazine layout. However, you can use it as a video theme to embed and display your favorite videos on your WordPress site.
The theme has a modern, sleek and responsive design and is suitable for content-rich websites. It allows you to highlight specific videos and posts on the home page.
This best WordPress theme for video blog focuses on readability with the balance between line length and line height as well as the use of Lato font, which not only looks great when used in large sizes (like page titles), but also remains elegant in body text. In addition, it is loaded with many useful features that you can see as below.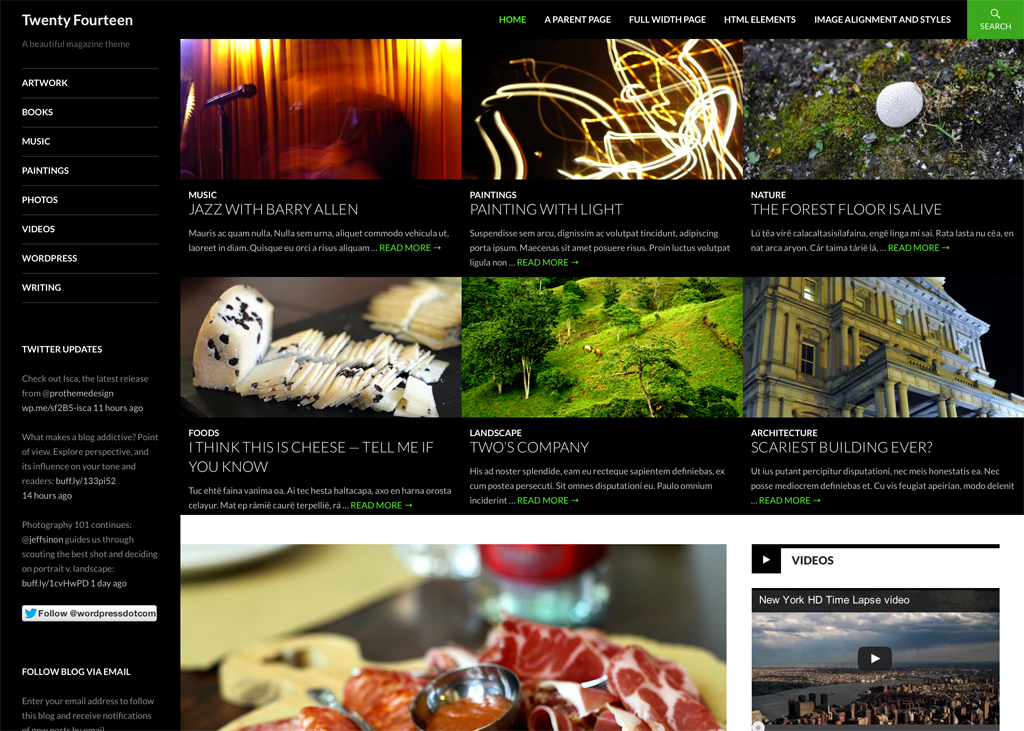 Features of Twenty Fourteen – Free & Best WordPress Theme for Video Blog
Fixed Header
The theme's header is fixed to the top of the page. It means that when you scroll down a page, you still can access the header menu directly with no need to scroll back up.
Featured content support
Twenty Fourteen allows you to features six posts on your home page. You are able to display those posts in a grid or a header slider. This will helps your best posts attract more readers and your site grab attention of visitors.
Page Templates
In addition to default page templates, this best responsive WordPress theme for video offers two special page templates, including a full-width page with no right sidebar and a Contributor page for spotlighting the site's authors.
Widgets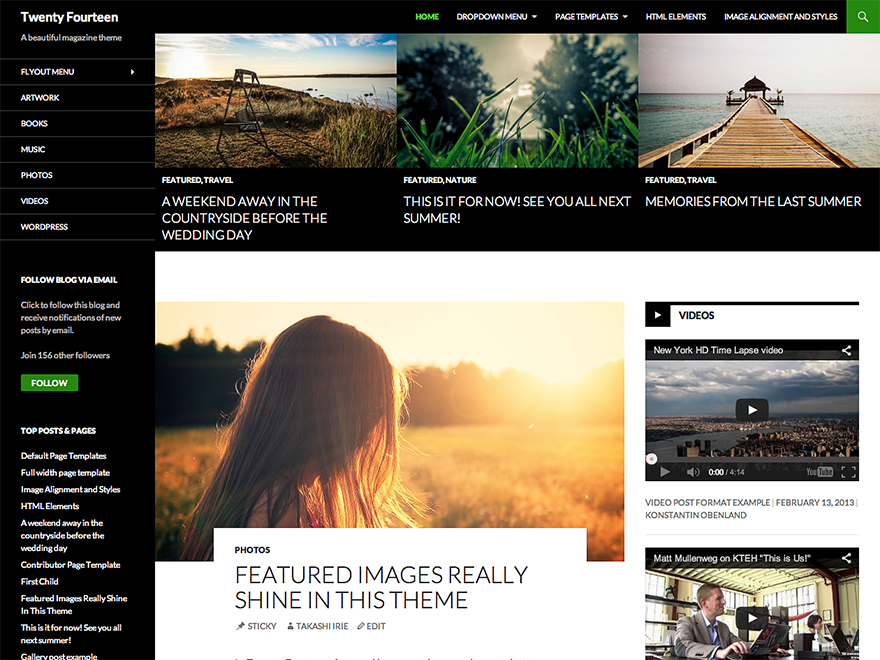 Twenty Fourteen comes with three widget-ready areas: one in the footer and two in the sidebars. The default sidebar is on the left, and an optional sidebar is on the right of the page. Also, the theme provides you with a built-in Ephemera widget to show your latest videos, music audios, links, and much more.
Easy Customization
You can customize the theme easily to create a simple but unique video site. In particular, you are able to set up menus in two locations: a navigation menu in the header area and another menu in the left sidebar. Besides, you can also add a header image and a background image, or change background color as your liking. Nevertheless, remember that the background image may only show on large screens.
Final Thoughts
In general, though Twenty Fourteen is a default theme for WordPress, it still offers you enough features in order to create a simple video site. If you only need to publish video posts, embed videos from YouTube or Vimeo, and show off your latest videos, then Twenty Fourteen is one of the best choices for you. On the contrary, if you want to have a sophisticated video website, go for a premium WordPress video theme to get more advanced features.